In this fast-paced digital world, technological innovations are constantly evolving. Organizations must adopt new technology to improve workplace productivity and keep up with technology. This is where Office Automation System (OAS) comes in. In short, OAS help an organization optimize daily operations. Let's learn more about OAS and see what it can do for an organization.
What is Office Automation System (OAS)?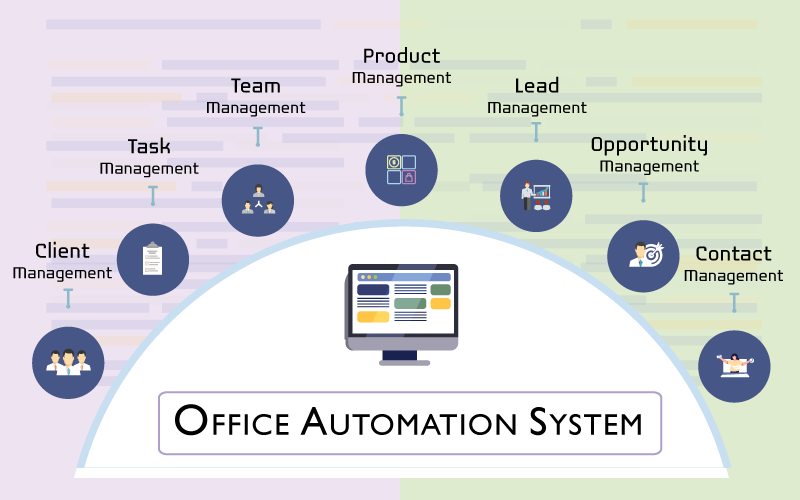 Office automation uses information technology to simplify and assist office operations, improve communication, increase office efficiency, and improve clerical output quality without inaccuracies. OAS is primarily based on two factors.
Computers Components
Communication Technology
Computer components are embedded in-office devices, and communication technologies merge with office devices and people, for example, replacing the employee attendance sheets with an automated biometrics device.
Features of Office Automation System
There are numerous features of office automation; however, here are some of the most attractive features that are classified into the following groups:
Information Storage
This comprises information recording tools such as forms, documents, files, photos, or spreadsheets. Information storage is commonly found in word processors or spreadsheets, but it can also be more sophisticated, such as official records in a CMS or an automation software application.
Data Exchange
With OAS enabled office, team members can quickly exchange and share information in real time. For example, e-mail. E-mail uses a computer and network protocol to send messages from one user to another user. The E-mail also features a mail management system, relaying mail to more than one user known as cc and bcc.
Data Management
Office automation systems can effectively handle short- and long-term data like marketing expenditures, financial plans, inventory management, workforce allocation plans etc. Task management also can be monitored and controlled, such as office activities, scheduling meetings etc.
Multitasking
OAS can perform various office administration tasks at once. For example, it can control office temperatures; it can process and manage work data entry simultaneously.
How OAS Effects Business Growth
OAS has the potential to take the workflow to the next level. The following are some of the most significant benefits of automating office workflows:
Minimizing the manual work required to execute routine activities
Complete elimination of human and manual error
Reduced task completion processing time, resources and cost
Gaining a better understanding of process performance metrics
Optimized internal communication and better employee satisfaction
Based on forecasted data, management can decide the best outcome plan for business
Increased brand value, productivity and sales
Increased customer base, profit and less mental stress for employees.
The Essential Tools of OAS
The most significant decision you must make while implementing OAS in your organization is- what is the right tool you should choose? Understanding the OAS tool will help you make a sound decision.
Mobile Compatibility
Nowadays, employees and business managers are always on the go, for example, the sales team and their management. They always visit vendors, collecting and reporting sales data to the management. With a mobile-compatible OAS solution, they can exchange information from anywhere.
Availability of Reports and Analytics
Based on provided data, OAS solution can analyze and create reports for management showing the exact working hours for a specific task.
Easy Workflow Design
OAS tool can design workflow and improve it and thus making office tasks less complicated. For example, OAS automates the business process task and executes every operation with maximum precision.
Integration
Software integration is a vital part of any OAS solution. Modern OAS solution supports various third-party software to meet your work requirements, such as dropbox, slack, google sheets, CRM software, Mailchimp etc.
Proper Training
If you implement an OAS solution in your organization for the first time, you must train your employees to use this tool effectively. As a business leader, it's your responsibility to support the office culture that is open to change for a better outcome.
Types of Office Automation Systems
A proper OAS solution that meets your requirements can execute various office tasks simultaneously. Listed below are some of the automation tools that can boost work efficiency.
Finance and Budgeting
This type of automation tool assists you in planning financial and budgeting matters with more transparency. Using the right tool will help your financial team become more flexible and set financial goals for the short term or long term more adequately.
Recruitment
An automation tool can help the HR team find the best talent without biases by setting criteria and requirements. With the help of an automation tool, the HR team can automate job postings, take assessments, evaluate interested candidates and schedule interview sessions.
Security
Nowadays, digital threats such as hacking, malware attacks, spamming, and phishing are frequently occurring. As a result, internal and external data accumulated by a company can become a significant security risk if left unchecked. For example, an OAS can take care of all possible cybersecurity risks and recommend needed security action.
Cloud Infrastructure Automation
Online storage is limited and costly. An integrated OAS solution can help you with managing your cloud infrastructure. You can free up resources and save time by automating cloud configuration and setting provisions for your cloud.
Project Management
For a manager, delegating, setting deadlines, and managing and tracking tasks can be hectic. An OAS can easily take of these issues without hassle. OAS tool help manager and team member before and during the project time and can analyze individual or group performance.
Procurement
Procurement automation relieves your staff of unnecessary activities and places them in positions that match their skill set. For example, a dedicated procurement automation tool can manage every stage of the procurement process while minimizing time and maintaining a healthy supplier relationship.
Document Processing
This computer application is useful for creating and designing printable documents such as reports, business proposals, etc. Also, if you wish to go paperless, this computer application can help you accomplish that objective.
Voice Automation
Answering machines and recorded greetings messages are examples of voice automation systems. For example, an automated voice system can communicate with multiple persons and process communication efficiently.
Administrative Facilities
Office automation tools can also be an effective office administrator, such as maintaining proper room temperature and lighting, attending to office inventory needs, ensuring security etc.
An organization can get benefitted in various ways using an automation tool. OAS is crucial in executing daily office operations and process optimization in this fast-paced digital era.