What is a Hotel Reservation System?
A Hotel Reservation System is a software solution that hotels use to automate their overall reservation process by creating room inventory, running rates, and managing guest bookings. This system is responsible for checking a guest by registering him into it and check-out the guest by creating a billing receipt.
Hotel staff and employees benefit immensely from this system in several ways. Firstly, it simplifies the reservation process. Instead of manually scribbling down guest details and room availability on paper, the system handles it all digitally.
This not only saves time but also minimizes the chances of errors. Plus, it allows staff to provide real-time information on room availability and rates, ensuring that guests get accurate information promptly.
Additionally, this system enhances customer service. With a few clicks, hotel staff can access guest information, preferences, and special requests, ensuring a more personalized and pleasant stay for guests.
Hotel Reservation System vs. Internet Booking Engine (IBE)
Though the Internet Booking System (IBE) or Online Booking Engine(OBE) is often used interchangeably with a Hotel Reservation System, these two types have slight differences in functionality.
When hotel reservation systems deal with reservations and revenue generation, the booking engine is an online system that allows customers to book rooms or reserve hotels via their online outlets (ie. Website, mobile application etc.).
How A Hotel Reservation System Works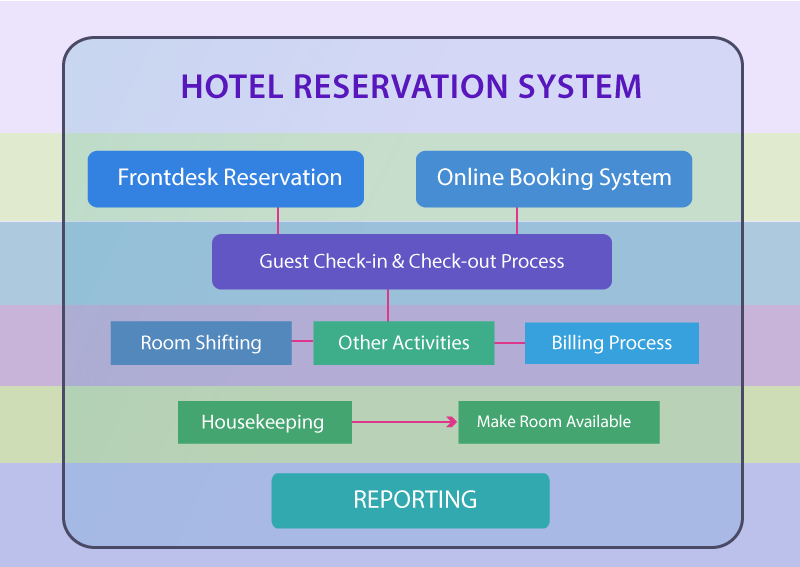 If we analyze several parts of the reservation system and examine the work process in real-life booking scenarios, we can see how these systems work.
Hotel reservation systems are divided into several major parts: a front desk reservation, online booking, Guest Check-in Process, Guest Checkout Process, final bills receipt creation, Room shifting, Housekeeping, and Reporting.
Before that, the system should be configured by setting up room types, room details, and room prices.
Those are explained below -
Frontdesk Reservation
The system's function starts when the guest requests a room reservation at the Front Desk via phone, mail or online.
"Front Desk Reservation or Front Office Reservation is the part used at the reception desk to reserve a room and manage a certain portion of the reservation system automatically."
EASY RESERVATION MANAGEMENT
The total amount of reservations and cancellations can be tracked and managed with a front-desk hotel booking and management system.
FAST CHECK-IN/OUT
At every residential hotel, receptionists on their computers usually use the in-house front desk hotel reservation software. It helps most with the fast and easy check-in and outs.
OCCUPANCY OVERVIEW
The receptionist can figure out instantaneously if the rooms are booked or which rooms are vacant on which days etc.
With a front desk section, all these minor details are dealt with easily and without confusion.
Online Booking System
The online booking system or the internet booking engine in the hotel reservation system lets customers get information about room details, room availability, booking process etc.
A hotel can offer the following features to its guests by setting up an online booking system.
INSTANT BOOKINGS or CANCELLATIONS
The bookings, modifications, cancellations and requests are instantaneous with a booking system that's online and easy to access.
INSTANT E-PAYMENT COLLECTION
Through online or electronic payment getaways monetary compensations are made instantaneously via the internet booking system. Payments are made quickly and secured for both parties by cutting the hassle to zero.
24/7 CUSTOMER SERVICE
Customers like consistent support and assistance with anything and everything. With the Live Chat option, online contact forms, or call-to-action buttons, guests can easily reach their queries to the hotel.
Guest Check-in and Check-out Process
When guests arrive to avail themselves of their booked rooms, they get checked into the room from the front desk. Their invoice is created from that point on until they check out. There is usually a predetermined time for the guests' check-out but they may wish to extend their stay or they must clear the room by the usual check-out time as per the hotel rules.
Check-in and check-out services are handled at the front desk and a well-incorporated online app can be instantly updated.
Billing Process
Advanced payment or partial billing may be mandatory for finalizing the online booking via standard online payment gateways integrated into the company app. Room prices, advanced payments, discounts, extra services, restaurant bills etc. are all part of the billing process.
After checking in, an invoice was created for the guest. Any additional services they ask for after that are added to their invoice will be billed at check-out. Even during a room change continuing the invoice is one of the tasks handled well by a well-rounded reservation system software.
Room Shifting
As you can select your preferred rooms online, you can also change your primary choices. This is usually possible depending on whether the desired rooms are available for booking.
As the guests arrive at their booked room, they may not like the view or some amenities may be faulty or limited. They may want to be shifted to another room and that is done depending on the available rooms at that point in time. A front desk system can help tell the manager which rooms are available and ready to be occupied.
Housekeeping
It is one of the amenities automatically included in the room booking. But depending on your preference, some hotels will let you choose how many times you wish to have your room(s) cleaned during your booking online.
Adding housekeeping information to the system is one of the most important. Without the updated information on whether a room has gone through the regular housekeeping procedures or not, it is hard to tell which ones are up for being booked.
Reporting
The hoteliers can check on all kinds of reports regarding their hotels in real time via reports automatically generated by the reservation system. Simple yet vital information like how many rooms are empty or booked or occupied can be seen in the reports.
Getting an online booking system with reporting and statistics enabled can be all you can dream of as a hotelier. Your app can show you the real-time stats of things like where most of your guests are from and necessary reports like sales and occupancy report to run your business more efficiently. Room Status, Rooming List, Room Mapping, Guest List, Occupancy Report, Arrival-Departure, Countrywise Guest, Payment Type Report and Sales Report are among other reports that may be delivered by the system.
Read More: Features of Hotel Reservation System
Challenges of an Online Booking System
Booking multiple rooms at a time
It's often a huge challenge for online booking systems to book two types of rooms in one go. Suppose, the guest wants one deluxe room and one single room booked for their stay but they only have the option to choose only one type. They can book more than one room in the same type but not in several types.
Ensuring Room Availability
Showing room availability and readiness to the guests in real-time is often challenging for the system. Rooms are ready only after thorough housekeeping is done after the last occupants have checked out after their stay.
Benefits of Hotels Reservation System
Hotels opt for reservation system software to ease their management and other organizational efforts. Some major benefits to reap from a company-owned system are listed below -
No Commission to Outside Agencies
Hotels do not have to give travel agencies unnecessary commissions with an in-house reservation system. With minimal promotions and retained quality services online, it is not very hard to get and keep returning customers.
If customers like your reservation system, they won't feel the need to book via agencies. And if you have a strong booking system, you can use agencies to direct customers to your reservation channel.
Better Control Over Service Essentials
Hotels can enjoy greater control over service pricing, discounts, information details, up-front booking, cancellations etc. Quick service modifications, upgrades and cancellations are possible
Different hoteliers opt for different services based on their business goals. Total control over the announcements and designs can help them stand out and grab customers.
Increased Branding Potential
With full control and freedom of customization at hand, hoteliers can focus closely on tweaking their branding potential online. With a company-dedicated application, all in-app facilities can get the refined attention of the business owner so that the customers get unparalleled service.
It usually leads to a loyal customer base, brand building and uninterrupted growth.
It helps hoteliers pinpoint and contact potential returning customers to consider going back even if their first choice had been elsewhere. Remaining the former customer can make them feel special and help build brand loyalty.
Ease the Marketing Process
With a mobile application to lure customers, the hotel business can have something to promote. Retaining an online presence is important for all businesses; holiday sessions are the time for hotels to get vocal about their services and offers.
In the online game, it is important to have something to say, preach or promote for consistent brand presence across major if not all available online outlets. A hotelier can orchestrate a system to post on social media about their tour packages, airport pick-up facilities or discount offers etc. to build and retain their brand presence online.