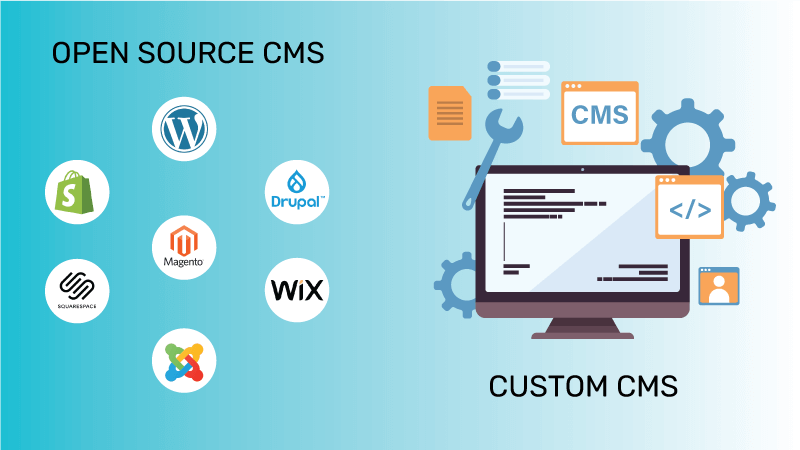 Choosing between a custom CMS and an open-source CMS is one of the most crucial website decisions a company can make. Both custom content management systems (CMS) and open-source CMS have significant advantages and limitations.
Which path you take will be determined by personal preference, but it may be worthwhile to look at both so that you understand their features and make the decision.
What Is Content Management System (CMS)?
Content Management System (CMS) allows a website owner to manage content. The activity includes adding, editing, and removing content that is in text, image, video or other formats.
Why Is CMS Essential?
Your website's content gives the first impression to visitors. Properly structured content ensures a strong presence of your brand. A good CMS will help you build a professional and great-looking website while saving you time and money. In addition, let us look at some key points to see why CMS is essential for your business website.
Effective Content Management
You can manage your content and publish them on your website efficiently. Before publishing any content, you can save it as a draft and edit it as you see fit.
Friendly User Interface
A visitor or user can get a positive and welcoming vibe from your website if your content management is structured and beautiful. Apart from that, users can easily find their desired content using the website's built-in search option, as effective CMS has a powerful search engine and automatic content index feature.
Excellent SEO
A CMS can help keep your website content fresh and SEO friendly. On top of that, a CMS will improve the website's SEO ranking and maintain the relevancy of the website's content.
Ease of Use and Accessibility
A good CMS will enable you to access website content conveniently from anywhere using either a smartphone, laptop or desktop pc. This ease of access gives you the freedom to update content without the help of your web administrator.
What Is Open Source CMS?
Open-source CMS codes are publicly available. These codes can be copied, redistributed and modified. It has a substantial, strong community, such as WordPress, Drupal, Joomla etc.
What Is Custom CMS?
Custom CMS is a proprietary solution developed from scratch specifically for business owners' websites. With a customized CMS system workflow, design and usability can be tailored to meet specific business departments' needs.
Which Is Best?
Choosing the right CMS that meets all your requirements are essential. You should evaluate your options carefully. Consider the following things before you jump into a decision.
Advantages & limitations of Open-source CMS System -
The Pros
It's Free
By choosing a suitable open-source CMS, you get well-maintained software for your website.
Gets Updates Regularly
It has an active developer community; thus, it gets updates and patches regularly, for example, WordPress. Since its inception, WordPress has incorporated many popular plugins into its CMS.
Community Help
Generally, this open-source system has a large supply of web specialists. You can ask for help anytime in the community post.
Quick Web Development
If you employ a web developer skilled in open-source CMS, your website will be ready in a few days.
The Cons
Not Unique System
Open-Source CMS system is not unique and does not include standard support.
Need Regular Maintenance
This type of system needs to be updated regularly or become vulnerable. Development Costs may increase over time.
Not Independent
Rely on community volunteers for assistance if you get stuck. Also, you will have to depend on many third-party developers to use many plugins.
Upgradation may Break Features
The user interface is a bit confusing for beginners; also, the automatic upgradation process may break down the design and features.
Not SEO Friendly
Too many and poorly overly complicated coded plugins could affect the SEO performance of the website.
Security Threats
Open-source CMS codes are widely available, and because of that, hackers and spammers attacks are frequent.
Need Constant Monitoring
Need extra monitoring, which takes time and a practical plan for a long-term sustainable setup.
Verdict
If you want a sustainable business in the future, in this case, open-source CMS is not for you. On top of that, open source CMS is easy to use; anyone with a simple study lesson will get a firm grip on open source CMS structure.
Advantages & limitations of Custom CMS System -
The Pros
Custom CMS Is for You
Open source is for everyone. They are standardized web-based applications. But, on the other hand, custom CMS is only built for you. They are designed in a specific way to fulfill your requirements. In short, you get precisely what you want.
Better Security
As open-source CMS codes are widely available, hackers and spammers are already familiar with the structure of the software. But on the other hand, custom CMS codes won't be published; therefore, the chance of discovering security flaws is less.
Better Customer Support
As you built the system from a hired web development company, you are guaranteed to have customer support if you need any help regarding CMS issues. You won't have to rely on community support or a rigorous research process to find the solutions.
Initial Cost Saving
You can reduce the cost by taking pre-built custom CMS.
The Cons
If you want to build a custom CMS from scratch, in that case, it takes time.
You have to rely on the developer or web development partner for the maintenance.
Transferring to different CMS might get complicated.
Verdict
Custom CMS is for you if your business website requires updates and customization regularly. However, moving the custom CMS to another CMS platform will be difficult in this case.
Final Note
It is critical to consider the above pros and cons when selecting whether a custom CMS or open-source CMS is the best fit for your organization. While open-source CMS offers excellent flexibility, custom CMS codes always hold a high standard. If you want to create a website, mobile application or site that is SEO optimized, custom CMS would fit your requirements nicely.