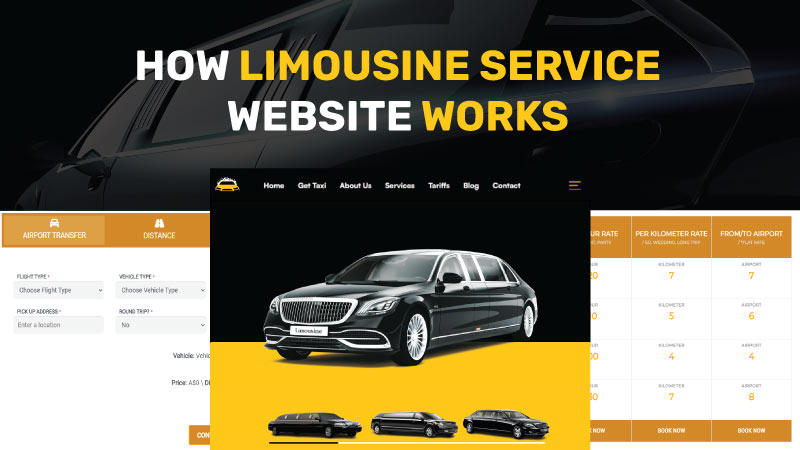 A limousine rental is a popular way to get together with friends or for special occasions. You won't have to worry about travel routes, heavy traffic, or getting to the events on time because the chauffeur plans everything for you and makes your travel comfortable along the way to take care of all of your needs.
In this article, you'll know why limo makes travel special and understand all the fuss about limousine service. Also, you'll understand how a limousine website works.
Luxury on Wheels: Comfort and Style with Limousine Service
For the past few decades, limousine service has been considered one of the most luxurious and a symbol of safety. Let's take a look at why it is one of the most desirable mode of transportation:
Luxury, Comfort, and Convenience

Limousines are luxurious and comfortable vehicles with expansive interiors and high-end features like leather seats, air conditioning, and entertainment systems. This might help to make a vacation more relaxing and enjoyable. On top of that, the service can be pre-booked, and the chauffeur will be waiting for you on time at your convenient destination.
Easier Process for Group Travel
Limousines are ideal for group travel since they can comfortably accommodate many people while also providing a sense of closeness and companionship. Whether you are going to a special occasion or traveling with friends, a limousine service makes the process easier.
When you take the service of a limousine, you and your friends must show up at the designated place on time. From there, you travel as a group wherever you go and get a hassle-free, fun experience.
Professionalism, Dependability, and Safety

An experienced chauffeur is skilled in driving and knows the best route to avoid traffic. Sometimes changing weather and other highway conditions can make driving challenging. An experienced chauffeur considers all possible factors and employs the best route for the destination while prioritizing safety.
Style, Elegance, Space, and Privacy

Limousines are well-known for their elegant, attractive style, and they can bring a luxurious look and class to any occasion. Apart from that, a limousine offers extra leg space and privacy to ensure a relaxed trip while avoiding unwanted attention.
Stress-Free Trip

A professional limousine service can take away many of the hassles associated with the trip, such as navigating through busy traffic, dealing with reckless drivers, finding parking spots, etc. While an experienced chauffeur takes care of these stressful situations, you can have fun and make your special occasions memorable.
When Do You Use a Limo Service?
Several real-life events & examples of when using a limo service instead of renting a car might be beneficial:
Weddings - A wedding limousine can bring a touch of elegance and luxury to the event, making it more memorable and unforgettable.
Special events - For proms, red-carpet events, and parties, a limousine can provide a sophisticated and luxurious form of transportation.
Business travel - For business meetings and gatherings, a limousine may provide a more professional and comfortable method of transportation.
Group travel - A limousine can easily accommodate multiple persons, making it an excellent choice for group transportation.
Time-saving - A limousine service may save time and effort spent managing traffic, parking, and finding your way around, which is especially handy for business travelers and those on a tight schedule.
Airport transfer - A limousine can provide door-to-door service, avoiding the need to deal with public transit or airport parking.
How Limousine Service Website Works
The limousine booking website is an online platform where customers can book luxury vehicles such as limousines, sedans, SUVs, and vans for transportation to events, special occasions, or business travels. This service providers offer a vast number of vehicles to choose from as well as the option to hire a professional chauffeur.
We will examine the various features and procedures that power a limousine service website's functionality so that we can get a comprehensive understanding of how the service works:
Browse the Fleet
The first step in utilizing a limousine service website is to go through the available car fleet. The fleet comprises limos, sedans, SUVs, and vans, among other vehicles. Each vehicle will have unique features, capacities, and prices. It is advisable to evaluate the automobiles and select one that suits your requirements and budget.
Request for Quote
You can get a quotation if you are unsure about the parameters of your reservation or want to get an idea of the cost before committing. This usually entails describing your limousine needs, such as the kind of vehicle, pickup and drop-off locations, and the reservation day and time.
Chauffeur Booking Options
After you've decided on a car, the following step is to hire a chauffeur. Customers will normally fill out a form on the internet with their needs, such as trip type, vehicle type, pickup date, time, and place, number of passengers, transfer type, and any special requests.
Payment and Cancellation Policy
It is essential to read the company's payment and cancellation policies before booking a reservation. This data can be found on the webpage. Customers are recommended to familiarize themselves with the payment and return policies.
Making a Reservation
To make a reservation on the Limousine Service website, provide your name, email address, phone number, and desired pickup and drop-off timings. After completing the form, you will be prompted to confirm your reservation and make payment.
Confirmation Text and Email
When your reservation is confirmed, you will receive a confirmation SMS and email with information on the car, the chauffeur, the pickup and drop-off locations, and the total amount. It is critical to verify the confirmation text and email for accuracy and to contact the provider if there are any inconsistencies.
Limousine Service Vs Rent-a-Car Service
People often mix up the term "limousine" with a traditional stretch limo, but in reality, a limousine is considered a chauffeured vehicle service.
| | | |
| --- | --- | --- |
| | Limousine Service | Rental Car |
| Luxury and Comfort | Limousine services are designed to ensure a luxurious and comfortable experience. | These are heavily varied depending on the vehicle type. |
| Experienced Driver | Customers will be safe as a professional, experienced driver will accompany them. | Customers are responsible for driving and navigating. |
| Special Occasions | Best for weddings, proms, bachelor parties, and carpet events. | Suitable for solo travel and sightseeing. |
| Door-to-door service | With a booked service, the chauffeur will pick you up and drop you off at designated locations. | The customer has to come to the renal car office to pick up the car. |
| Stress and hassle-free trip experience | Chauffeur will take care of all the worries of roads while you and your group experience the luxurious trip. | Customers are responsible for driving, navigating traffic, and finding the best parking spots. |
| Space and Privacy | Limousine services are designed to ensure extra leg space and while maintaining privacy. | The amount of space and privacy available varies based on the vehicle model. |
You will be able to effectively use a Limousine Service Website to book a premium car and chauffeur for your transportation requirements if you follow these procedures. Before making your reservation, thoroughly check the vehicle fleet, chauffeur booking choices, and payment and cancellation rules. Also, always double-check the confirmation text and email for errors, and contact the service if required.